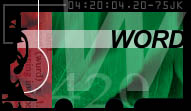 6.7.18: Jeff C. Kraley (3.5.1950 - 6.7.2018)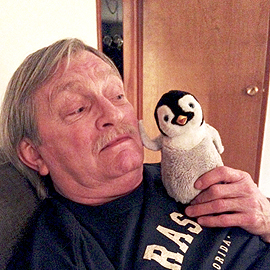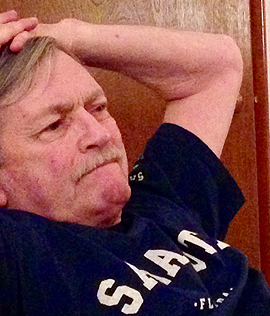 June 7, 2018, at 6:07pm EST, I received the most unexpected phone call informing me that my father was found dead on the living room floor of the house he was residing at. It is a phone call that one never expects. Somehow we never think of exactly why, how, or when we will get this delivery of information, this "letter in transit"... but it seems to almost never come to us when we're expecting it. I've sat, stood, paced, and all while contemplating for hours how to "feel". What to think. There is a ubiquity about death that we all either fear, loathe, abhor, venerate, ignore, revere, or even welcome. My father was a difficult, intelligent, troubled, philosophical, creative, fearless, and ultimately fearful human. He had postulated, theorized, speculated, and questioned many things: his own existence, his indelible mortality, his place in the world, his purpose or function in the "grand scheme" of life, the universe, and everything. People who know me best will undoubtedly recognize similarities of what I am describing as adjectives that align with my own self. I suppose genetics does have a role in the hands we are continuously dealt in the games we encounter in life... but, like gambling, like most all games, the schematics and deconstructions of these highly speculative questions are ultimately a somewhat shared set of ultimate questions amongst us all, from time to time... Some people handle them with grace, manipulation, admiration, or any various ways we manifest our ways of dealing with our existence. My father dwelled heavily in his own existentialism, as well as those of others. He was not a perfect man. Far from it, some would say. He was obviously not a perfect husband... twice, at least. And he was by no means the perfect father... but he was my father. He was someone who contributed something. Not just genetic code in order to initiate my creation and existence. He contributed the best of what he could, when he could: enthusiasm, wonder, sympathy, regard, knowledge and acknowledgment - and most importantly: his intent of love. His love, however, like most of us, was not without its flaws. He was human, afterall. He was not without his shittiest of sides nor without the greatest of intentions, but there was something special... something unique... something we all possess within our own uniquity. He was a father, a husband, a lost (and found) soul, but most importantly he was human. He existed. He mattered. He may have unintentionally caused the greatest of pain and unknowing moments of deepest sorrow - as well as the rarer sides of himself he tried so cleverly(?) to hide. But his totality - the sum of him - will always live on, through his thoughts, his written memories, his photos, even his ramblings (when coherent enough). It is what he has left behind in all who have encountered and/or known him that are the best recipients of the examples of what was strongest within him: his unique impressions which have been touched and left behind by him. For better or for worse: he mattered.

And I am proof that, indeed: "Jeff Kraley was here."

RIP, my father. You caught me (and us all) off guard on June 7th, 2018, but your irony will forever be remembered as long as we are around to remember you.

Love, your only son,
Jason Kraley


11.29.17
November 29, 2011 was the official CD release of Still Inertia's album: "Invested". It took me 6 years to make, and here we are 6 years after its release!

This year, the website has been updated for easier accessibility. So, if you're looking for a stocking stuffer or just want to share the love, here's how to securely purchase the album or individual songs on CD and/or digitally (MP3-320 quality format):

"Invested" (Official US Release)
67 Minutes - CD/MP3 - November 2011
$10 (CD) - $10 album/$1 songs (MP3)






Official Sellers: CDBaby, iTunes, Amazon.com
Official Distributor: CDBaby
Official Rights Affiliation (PRO): BMI
ID: CR-112011-29
BARCODE: 6 25989 65862 4


2.3.17
One would think a year later, things would be on the mend,
but I do declare, "a disquiet follows my soul," lately...

Meanwhile, in celebratory reflection of 2016,
thinking back to all that I have watched, finally made me put together my official
"Top 16" of 2016 list in the The Reference section... Enjoy!


2.7.16
My grandmother, Jane L. Kraley, passed away February 7, 2016. She was one of the only two best grandmothers in my consciously living world, and my world is irreparably diminished by her loss. This song "Grandmother" is my continuing tribute to her beyond 2016... - Jason Kraley (BMI), eldest grandson/writer/composer - aka Still Inertia...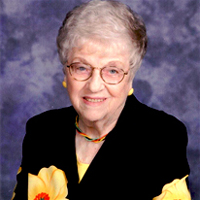 1.16.16
This website has been in existence since 1996. Back in its establishment, "The Reference" section originally offered hundreds of sorted, verified website links to musicians, artists, record labels and organizations I supported. However, after 20 years, with the advent of social networking, proliferation of countless websites, and meticulously expansive search engine accessibility, I've rebuilt that section to present informational records of personal interest and reference. This change now allows me to archive all my annual movie lists under the "Visual Consumption" section, along with anything else I choose to collect, sort through and organize.

This perfectly coincides with my latest documented release of everything I've visually consumed in 2015: my "Top 15 of 2015" list! Happy new year!
Click here to view my 2015 list


1.10.16
Not much to say except that, today, I'm one year older and, sadly, saying farewell to David Bowie...


1.1.14:
"Damocles' Sword" (Official Digital Release)
6m47s - Digital Only - January 2014 - $0.99 (MP3-320)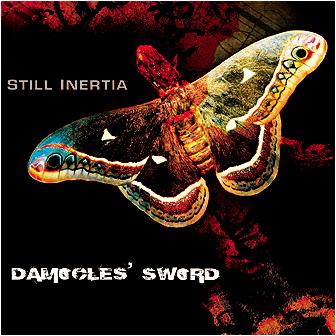 "Damocles' Sword" was originally intended to be the finale song to the entire "Invested" album (2011). However, due to the CD's length restriction of the manufacturer, this mastered song was not included and became a rare, unreleased "B-Side" (which also sparked the upcoming "Journeys" EP). "Damocles' Sword" is fully mastered and finally released to the public to usher in the new era of 2014's creativities and breaking the writing blocks since the release of "Invested".

Writen, Recorded, Engineered & Produced by Jason Kraley (BMI)
Additional Rhythm Patterns: Jason Popejoy
Mastered by Mike Giffin in Los Angeles, California
Performance Rights & Copyright 2011-2014 Still Inertia (BMI)


Official Sellers: CDBaby, iTunes, Amazon.com
Official Distributor: CDBaby
Official Rights Affiliation (PRO): BMI
ID: CR-2014-1
BARCODE: 8 88174 49490 6


7.6.13


In March 2013, ABSOLUT Vodka boldly turned its iconic bottle into a blank canvas to inspire creativity and support LGBT Equality. I was gratefully 1 of 50 United States artists in 2013 whom were invited to design an ABSOLUT OUTRAGEOUS Masterpiece 4-foot tall bottle using the classic "ABSOLUT Greyhound" cocktail as inspiration. Nationwide voting took place on Absolut's Facebook page between May 17 - June 30, 2013.

The results? Ironicly, I placed #11 nationally with 424 votes, and, as winner of Philadelphia's competing local artists, I also placed Philadelphia as #11 out of 22 participating cities. Thank you all for your support and votes!


WHAT WAS MY INSPIRATION?

Well, primarily, I wanted to represent Philadelphia's spirit of Liberty and Equality (William Penn's monument on Philadelphia's City Hall), incorporating the grapefruit component of the "ABSOLUT Greyhound" cocktail (the suggestive red grapefruit sky), and, in keeping with the idea that Equality and Liberty (in my opinion) is futureproof, I created a robotic racing greyhound - the likes of which are featured in ABSOLUT's Official ABSOLUT GREYHOUND television commercial and music video featuring new music by Swedish House Mafia.



Have a look for yourself:






(click to enlarge)
WHERE IS THE BOTTLE CURRENTLY? My bottle is currently on display at Tabu Lounge & Sports Bar in Philadelphia.

FOR MORE DETAILS, INFO AND "THE MAKING OF" PHOTOS,
CLICK HERE!

I appreciate your interest, your votes, and I thank everyone, including ABSOLUT Vodka (US), SPI Marketing and my fellow selected ABSOLUT OUTrageous artists!
I thank all my friends for your support and belief in this 160+ hour creation!

PLEASE: ENJOY WITH ABSOLUT RESPONSIBILITY®


11.29.11
The "Invested" album officially has been released!

"Invested" (Official US Release)
67 Minutes - CD/MP3 - November 2011
$10 (CD) - $10 album/$1 songs (MP3)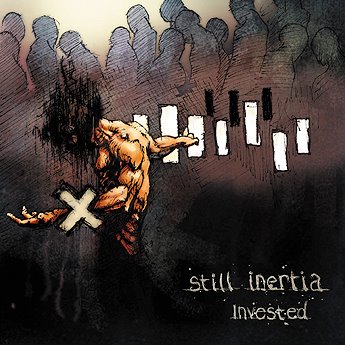 Official Sellers: CDBaby, iTunes, Amazon.com
Official Distributor: CDBaby
Official Rights Affiliation (PRO): BMI
ID: CR-112011-29
BARCODE: 6 25989 65862 4

For more information and to show your support, visit: facebook.com/stillinertia
Lastly, if you are in Europe or outside of the US, there are EU distribution sellers who have the CD in stock to lessen international/customs costs. Naturally, the price will be higher though, since this album was born in USA. (Still Inertia has no control over prices outside of CD Baby)


11.17.11
UPDATE: 500 CDs (all 110 pounds of them) have arrived. Damage report: Sadly about 20 or so were crushed. Thank you UPS.
ALSO: The final steps have been taken with CDBaby.com as distributor for the physical and digital downloading spects of "Invested". More to come, so stay "tuned"!


11.10.11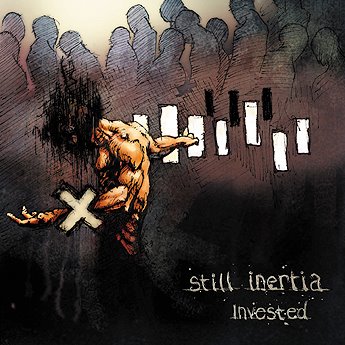 Well, the "Invested" CD cover has been finalized and revealed to the public today: Much thanks to the talented combination of Jeremy Mann (CD cover artist) and Matt Jay (illustrator for custom lettering art) to create the now set-in-stone/paper official cover of the album "Invested". What you are looking at is page "1" of an 8 page booklet for the CD itself. It is a work of informational art, and we hope you get the full package. Best cost and time would be the CD opening night. If you are more than 300 miles away, we are preparing a special set up for you to order the signed limited special edition CD "set" (2 CDs, yep!) after the evening of the opening night. Depending on how many are left, if you want the extra tracks and multiple CDs, by all means keep your eyes here as you will have a chance to order directly from Still Inertia as opposed to the main album posting, which will be distributed November 29, 2011 by CDBaby.com, Amazon.com and itunes.com, among several other prominent distributors. There is a limited number, and if those sell out, you'll here/read it here first. Also, all transactions for the "Invested" album will be handled through CDBaby.com, Amazon.com and itunes.com after the opening night. Keep your eyes adjusted because maybe, just maybe, some extra special deliveries will be made available for 24 hours during November 29, 2011 while the album goes through its official release. More info will follow as the days get shorter as the nights get visibly longer...


11.7.11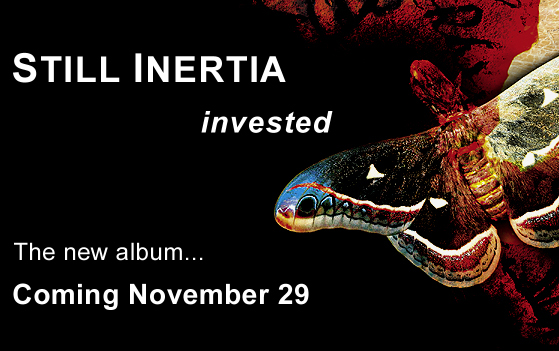 SPECIAL CD RELEASE & SENSORY EVENT

Thank you to all those who attended this special event on November 29, 2011.


11.5.11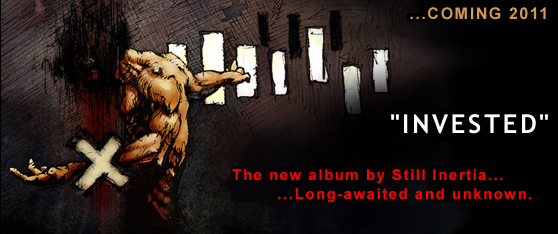 Still Inertia's latest album, "Invested", been "in the making" for 6 years, 2 cities and 3 studio locations... Through kind support and belief from Stephen Keever, Gooding, Pepper McGowan and Christine Siarka, it was announced in July 2011 that "Invested" had moved into its the first stages of progress towards completion. The album was revisted, technologically fiddled with and widdled down by the much appreciated assistance of toshio alan mana. In September through October, the album's packaging and presentation was meticulously scrutinized for its graphic design by Jason Kraley himself, with finalization assistance from Terry McMillan of Healey Music. The album was shipped and wonderfully received by Mike Giffin in Los Angeles, California, who took on the project of mastering the enitre album. And finally, on October 18, two final MASTER CDs were ISO-compliantly encoded and mailed off to Healey Music for replication of the first 500 CD editions.

Still Inertia has been working extensively in the past 6 years, welcoming the assistance of guest technicians, lyrical defenders of the mighty pen, and wildly gifted (and ambitiously talented) musicians from around the world including: Roto Visage, toshio alan mana, Lane DiFlavis, Jason Popejoy, Pepper McGowan, Ren Clark, Courtney Ann Smith, Keith Royer, Shwag McGinty, GOODING, Mike Williams, Amanda North, Colin Helb, and the sampled assistance of the Philharmonia Orchestra of London (courtesy of www.philharmonia.co.uk/thesoundexchange)

Currently, 15 songs have remained "on the cutting table" for the forthcoming album, slated for the November release. There will be an unusually unique blend of vocal tracks as well as instrumentals this time around; all guided by Jason Kraley's somewhat frenetic experiences and adjustments (or misalignments) of relocating to Philadelphia. Definitely some highlights of this album, aside from its mastered sound quality, is the first recorded use of an actual Steinway and Sons Grand Piano and the inclusion of the Philharmonia Orchestra of London!

"Invested" also carries with it tremendous support, guidance and voluntary technical assistance from Stephen Keever (the real rockstar), Jason Popejoy, toshio alan mana, GOODING, Alex Vega, John Rowland, Keith Royer and many, many more - including Jeremy Mann whom went out on a wonderous limb, creating custom artwork specifically for the album cover (which also became permanently inked on my entire left forearm in 2007 by Shannon Howard) and album titling Illustrator: Matt Jay of www.bonepumpkin.com. "Invested" will hopefully serve as the embodiment of a most mentally dynamic range of emotional wreckage and beauty in audible form I have ever composed to date.

If one thing is for sure, it's that "Invested" is sure to bring more than one unpleasantly pleasant surprise to your ears this winter 2011!


10.10.10
WHAT'S THIS ABOUT PEPPER McGOWAN AND STILL INERTIA WORKING TOGETHER?

Yes, indeed, I am alive... And so is Pepper McGowan.What has Still Inertia been doing during the winter 2009/2010? Well, working (postulating and mental wrinting) with Pepper McGowan for our upcoming duo album in the coming in the 2020 realm. But what does that mean? Well, we're not fully sure ourselves. I don't think we have to think of our internet consequences when we are working on what we do to survive, live, thrive, and enjoy. Until then, you just have to accept it. We did our first major recording session in 2009 (right after Thanksgiving) with the Philadelphia Museum of Art's grand piano (Steinway and Sons full-length "grand edition") and makeshift auditorium-curtained/digital studio on stage... Indeed it has been the start equivalent to a far away glimpse of an event horizon in the form of a ground-breaking amount of work and an intensive start as BOTH our lives weave 433 miles between each other and how they intersect at various points in time. We plan to work with acoustic piano recordings, both our vocals, mixed with digital-electronic soundscapes, instruments, textures and building blocks indicative of Still Inertia's instrumental sound mixed with Pepper and her using her analog device: the first portable Pioneer cassette tape recorder - as a journal beyond space and time, recording her vocals to express, mess, meld, mold, and blend over 30-40 years of technology into one presentation. Yes, it's huge. Yes, it's a big endeavor. Yes, if you think we're insane, continue thinking that way.... because we are - or are we? Right now our lives are primary as we tackle our personal day-to-day challenges, as we still communicate on an almost daily basis across the miles. Right now, we just wanted to make the statement of a start: We want people who are open to the realistic progress of growing maturity with unbridled, ageless passion, believing in the idea that something slow, inspirational, and - at times - quick-no-holds-barred evolutionary metamorphasis "seeping down your arm like honey from a freshly pulled honeycomb" can actually not be a trite made flesh... and, instead, believe that we will eventually walk away with something culminating in what may very well be the pinnacle of both Pepper McGowan and Jason Kraley's (the main brain behind the music moniker Still Inertia) careers together as a seemingly offensive, pleasurable and future-proof piece of auditory (part visual) and yet ultimately visceral collaborative piece of artwork which will stand out all on its own.


3.16.10
THANK YOU!

Many thanks to the record-breaking numbers of people (friends and strangers alike) who attended the 5th annual Collaborative Art Show ("Bear Art") at The Bike Stop March 12-13, 2010. Though numbers are not to my knowledge, suffice it to say, many children will be going to Camp Brightfeather, a summer camp for children with HIV and children whose families are affected by HIV thanks to all of you! Kind personal thanks go out to Veronica Bound (curator and organizer extraordinaire), The Liberty Bears of Philadelphia (the sponsors of this event), the owners and staff of The Bike Stop (who welcomed the event), my friends who were able to attend (sorry for the rain, but at least it wasn't 70 inches of snow, eh?), and the new owners who purchased three of my paintings. I'm very grateful for everyone's support, comments, observations and newfound acquaintences. Have a safe St. Patrick's Day week!


1.10.09
Things change and time passes. Still Inertia is letting the passage of time slowly re-shape and continue to mold these pieces into some finality of the upcoming 3rd album "Invested" (presumably in 2010)! There has been a new instrument introduced into the strudio. A KP3 Kaoss Pad by Korg and some fine tuning post recording work needs to be done through this year... not to mention copyright legalities and packaging. Jason Kraley (the man behind Still Inertia) still personally invites you INTO the CRC Music Studio to find out how you can help - and to give you a special opportunity to hear 5 songs that have been created since the beginning of this "Invested" album project (some tracks will be on the album).... just to give you a glimpse of how much time, effort and emotion has been invested into the ultimate goal: The first professionally national duplication, publication and release of the album in 2011. For more information, click here. Think of it as a nice birthday gift, if you insist.... [sigh] yes, I'm a year older...

10.29.08
Thank you to all who came to the Voyeur event. We raised over $1800 for the Mazzoni Center's Toys for Children with HIV/AIDS as well as The Keystone boys Of Leather group. DVDs of the silent video will be compiled and given as gifts to the main donors and all acotrs and actresses who participated in my filming project "Voyeur" which was projected throughout that night at The Bike Stop.

8.25.08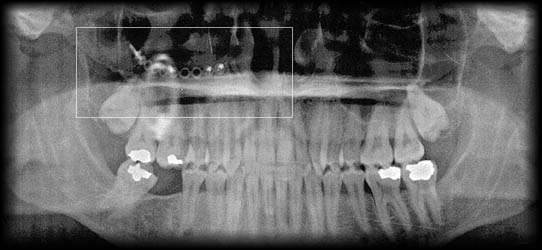 I have been absent online for quite some time. I now have more titanium in me, no one would really know it if they saw me, hell: it barely wants to be visible in an xray, but I can feel it and if you look real close, the multiple titanium plate fragments show themselfs only where the open holes and screw bolts are in the plates. One could say I'm the new 50 million dollar Jason Kraley... but it wasn't that much. Sadly, it is non-ferrous, which means it won't conduct electricity, it iwll not expand or contract from heat, and, sadly, it is not magnetic: So I can't do stupid party tricks like people making poems with those silly refrigerator magnets with words and letters... I'm on the mend, doing many things, including working with the lovely government, which actually is now working with me and soon... in the "wheneverywhere" near future... I will be releasing my 4-year album in the works... professionally. Professionally printed, packaged, UPC coded, and maybe, just maybe, in a crappy store near you! Thank you all for your emails, cards, and gifts! Cheers.

5.21.08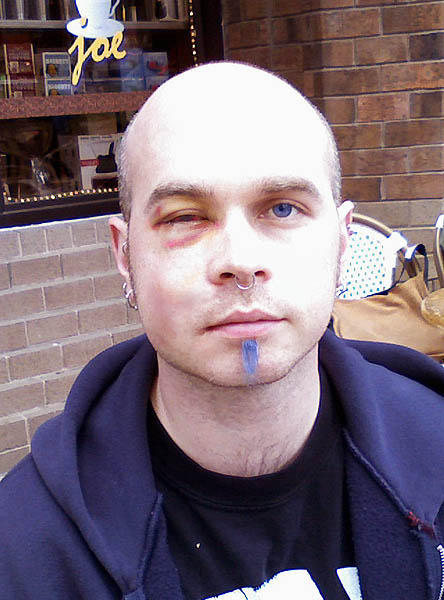 The 0-10 pain scale used to be that 10=passing a kidney stone back when I was 28. Accordingly, the surgery, upon waking, was a resoundingly knife-stabbing "35-40" on that scale. It took the most amount of drugs to almost kill a person without sedating them (since the goal was to awake me from surgery, which was 1 hour and 50 minutes). After all they could do, if I turned that 35-40 into an absolute 10, all the drugs they gave me brought it to a 9.5

Thank you to all who have been there for me through it all, especially Stevo, Tosh, and Jason... and that cool nurse who hooked me up with the tastiest farewell meal that didn't include decaf tea and chicken broth soup again as my last meal before hospital departure.

Picture provided by the lovely Luca, whose graduation I am sorry to miss later this week... happy birthday in advance to Steve, the most supportive and understanding person through it all, thank you to Toshio, the coolest friend to ever get ALL my ear and facial jewelry back in place after all these surgical visits, and to people like Mr. Russell and the fine friends in Cleveland who are attempting to stay in contact with my progress through the conscious and unconscious moments of my month of hell.

5.12.08
THANK YOU to all who came out supported the Bears On Liberty Weekend event this past weekend and thank you to all those who attended last month's Bear Art exhibition. You all were hopefully entertained, had fun, and you also helped raise money for charity for both events. Thank you to all those who helped out and thought kindly to involve my experience into the fold.

9.21.07



FILM ID: CR-V10

The last night of the 2007 Live Arts/Philly Fringe Festival's Late Night Cabaret (September 15, 2007) projected the premiere of the second annual top secret film Kraley Productions was graciously asked to create in front of the second largest audience ever for a Kraley Productions film. Directed and edited by Jason Kraley, this year the film took on a "mockumentary" version of NBC's (and BBC's) show entitled "The Office". The video is set in the new (and newly high-tech) Live Arts Box Office in Philadelphia. Starring Komal Kapoor, Amanda Grove, Lori Aghazarian, Becca Bernstein, Dom Chacon, Maya Choldin, Mike Dees, Jared Delaney, Jen Dillon, Karen DiLossi, Amanda Ditsky, Casey Gallagher, Tom Shotkin, Kate Tejada, and Jay Wahl, this film was shot in 7 hours and edited over the course of 5 exhaustive days. The ensemble of staff workers, actors and actresses, 2 cameras, 2 wireless microphones, and great improvisational action based on simple ideas written int he course of the previous week made this piece come alive and had the crowd unexpectedly laughing throughout a rather lengthy "spoken word" piece. This piece was musically saved by Toshio Mana and Gooding and edited on Final Cut Pro 4.5 HD. Much thanks to Stephen Keever (Executive Producer and Second Camera Operator/Super-Hero) and Maya Choldin (my first officially degreed Assistant Director). The piece marks Jason Kraley's 10th film, running 14 minutes, plus an additional 4 minutes for credits offering a special bonus of "outtakes" and memorable clips during the "on set" shoot, filmed and edited between September 9-15. This DVD will be ready for online purchase in the next week at Kraley Productions.

7.9.07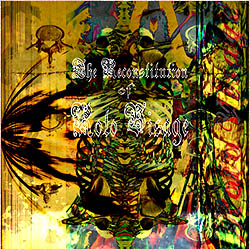 NOW RELEASED FOR FREE DOWNLOAD:
"The Reconstitution Of Roto Visage". Eleven artists came together to reinterpret, reinvent, and reconstitute the work of Roto Visage. Featuring remixes by: I.V.Lab, Pocka, Ahasverus, Conversations About The Light; Defractory, Calyx After This, Retro, Still Inertia, Worms Of The Earth, Anything In Wire, Nostalgia.

I played my hand (well, under my musical identity: Still Inertia) in this new online album by creating a re-version sonata of the song called "Smudge" by Roto Visage off their album - "La Muse Cachée". I spent several hard days creating a 7:32 version called "Smudged." I hope you all enjoy in the infinite vastness of musical appreciation, artistic deviation and expressionism that Roto Visage gave all us musicians such a great honor to explore...

This album guest appearance for Still Inertia has been added to Still Inertia's Discography. Click here for more information on the song line up, how to download individual songs or even the entire album online... for free courtesy of Kaos ex Machina netlabel.

Enjoy!

5.11.07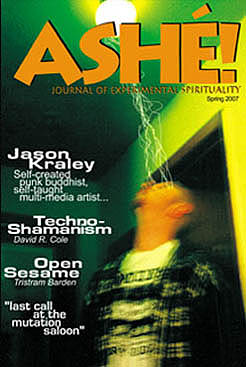 I have just been editorially recognized as the featured multi-media artist for the Spring 2007 issue of The Ashe Journal: an explorationally spiritual/artistic publication which provides a FREE DOWNLOADABLE issue in PDF format, or you can purchase a full color hardcopy to be delivered to your home.

I was asked to do the front and back cover designs as well as write an essay about my life up to this point. Amazingly, nothing censored! So have fun, read about myself and the other contributors and support "The Ashe Journal" and "Still Inertia" by buying a hardcopy of this issue, if you dare...

MUCH THANKS TO SVEN DAVISSON! Spread the word!

4.21.07
Thank you to all those who made it out to see the first public showing of Still Inertia's "Closer To Me" video and another nice viewing of Gooding's "Sunday Morning" at Joe's Coffee in Philadelphia. For those of you who inquired about the new album by Still Inertia, feel free to visit www.stillinertia.com for continual updates. Thank you very much to Joe's Coffee and for your applause. It meant a lot to me..

10.20.06
"CLOSER TO ME" (THE NEW VIDEO & SONG)



Of these many songs in the progress for my upcoming third album, INVESTED, there are a few that have been complete and awaiting their final placement on the album itself. One song is called "Closer To Me" and is pre-released with its very own video! I have been working on it (under the Kraley Productions realm) for the past 3 weeks and is now the first video converted to be viewable online.

October 7, 2006 was the official release date of the second music video ever for Still Inertia. It is an exclusively first new music video for a song called "Closer To Me" which is promoting the forthcoming third album entitled "Invested." Using footage spanning over 2 years in Cleveland, Ohio, the final lyrical pieces were shot in a day in Philadelphia, PA. Massive amounts of footage taken in Philadelphia were crunched down during pre-production to workable time-elapsed footage. This video explores the rather ever-changing emotional and mental health of someone who needs to get closer toward their own "within" before they are too far gone. It also demonstrates the continually evolving exploration of the creative boundaries of my music from its previous years. This, of course, combined with the other song "Eileen" only gives you a taste of what is to come on my third album under the identity Still Inertia.

The DVD features the full quality version (29.97 frames per second) as opposed to the 15 fps smaller/compressed version in QuickTime format for viewing across the Internet. Fully edited on Final Cut Pro 4.5 HD and finalized with complete menu design and integration on DVD Studio Pro 3. Total editing time: 3 weeks.

TO LISTEN TO THE NEW SONG:



Written & Produced by Jason Kraley (BMI)
Additional Drumwork: Roto Visage
Vocals, Lyrics, Music: J. Kraley

VIDEO AVAILABLE FOR VIEWING ONLINE:
(QuickTime, 17Mb)
VIDEO AVAILABLE ON DVD:
(More details...)

9.17.06



Well the secret is out. The last night of the 2006 Philly Fringe Live Arts Late Night Cabaret (September 16, 2006) debuted the top secret film Kraley Products was asked to create in front of the largest audience ever for a Kraley Productions film debut. Directed and produced by Jason Kraley, the film was a mixture of sharing the daily life of a volunteer at the ticket selling Box Office during the Philly Fringe Festivals, saying goodbye to the head supervisor of 10 years (Lori Aghazarian) and turning her into the daydreaming star equivalent to the relative idea of the movie Flashdance, back in 1983. The video is set to Irene Cara's song "Flashdance...What A Feeling" and the film was shot and edited over the course of 7 days. The ensemble of staff workers, actors and actresses, and 2 choreographers made this piece come alive and had the crowd laughing and screaming all the way through. This piece was shot with one camera with massive tripod movement and edited on Final Cut Pro 4.5 HD. The video stars way too many people to list here, however the credits offer a special bonus of "outtakes" and memorable clips during the "on set" shoot. Film runs just under 8 minutes and was filmed between September 7-11, 2006.
THANK YOU TO ALL THOSE WHO SUPPORTED THIS PROJECT AND CAME TO THE CABARET!

4.16.06
I just installed a huge chunk of memory engrams starting from my birth through 1996, as well as some memories of my last Cleveland apartment, my old car, and memories of the 2004 video shoot for "These Are My Tensions". They are all located in "The Memory" section. Not only am I complying with the Paper Reduction Act of 1990, but you never know what can happen to cherished photographs throughout your life (especially ones from the pre-digital Era). The only certainty is that they all will eventually fade in time; sometimes with the memory itself... except here.

2.23.06
There is a woman who lived over 86 years. Her name is Eileen. She is my grandmother. She passed away on February 5, 2006 at 5am EST. Her death (and life) has had such an impact on me, the only natural way for me to express it was to write a new song. I wrote this song, entitled "Eileen", 4 days after her passing, and will be on the forthcoming album by Still Inertia: "Invested". If you would like to hear it, feel free to click on the link below so that her life may emotionally touch other humans like yourselves in ways she could not have possibly imagined during her lifetime:








1.31.06
A big thanks for all those whom I've been told showed up for the movie, "Born Lucky". I apologize for not being able to share in the experience of being with Shahin on stage to introduce the movie, but I was glad to hear there was distinct mention and relaying of my apologies for being far away. I hope you all enjoyed it, casted your votes for the evening, and hopefully the film may travel the country all beause of all of you!

11.8.05
I am living in Philadelphia, for those of you wondering why my sea level has changed so drastically. For those of you wondering what I was up to with the "Final Days" painting spark, the entire collection is now on display and for your personal viewing in the newly updated Portfolio under the Art:Paintings section. In other news, due to my irratic mental state, I'm embarking on a project that will turn into the form of a new album, once again only as freneticly different as my brain is at this moment in my life.
Stay tuned for further information.





9.26.05
THANK YOU EVERYONE!

Thank you so much for all your support and attendance. I am pleased to have touched so many people in so many differently shared ways. I am also glad to have sold such a variety of selections from my current collection of paintings and photographs. I have been further inspired to continue to create along the style from which my new work is emerging from... when I settle in Philadelphia.

4.12.05
Still Inertia: "From The Ancient Center"

(THE SECOND ALBUM)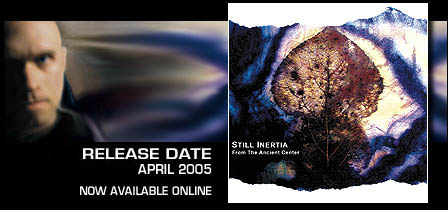 "From The Ancient Center" is the new album from Still Inertia which serves as the musical companion to an art exhibition installed April 7, 2005, by native Cleveland artist, Christine Siarka, entitled "From The Ancient Center: Mandala Drawings and Metal Sculptures". Christine translates her own personal, contemporary versions of mandalas from the traditional Tibetan concepts into amazing metal sculptures of mandalas. Working under the musical identity Still Inertia, I was commissioned to create music specifically for this exhibit and its installation. Working in the studio with Mike Williams (of MadNote Productions) and Amanda North, this is the first time Still Inertia created an album that concentrates on the human experience during meditation. With such intentions, it is with great hope that the listener becomes aware of the moment in time they create each time this album is played in its entirety; a moment when nature and technology exist harmoniously...

Fretless bass guitars, Siren-like vocal textures, rich layers of tribal rhythms, tints of pianos, humpback whales, a chinese gong, and even a turntable are all carefully and vividly woven together to create "From The Ancient Center". With meticulous continuity clocking in at 45 minutes, this album exhibits 4 songs (or movements) specifically created for the walking meditation engaged during the exhibition's opening night. The evening was a wonderful success and experience, and the CD was pre-released to those who attended that night. The positive consensus from the participants in the walking meditation was: "I've never heard music like this before."

Curious? Trust your ears:

"Cetus (excerpt)" Listen (MP3, 1.2M)
"You Shed Light In Me (excerpt)" Listen (MP3, 1.2M)
"Vessels (excerpt)" Listen (MP3, 1.3M)

The music was a permanent installation of the exhibit and will continue to encourage the interaction of visitors, connecting the visual art with the music, to create an ever-evolving rock mandala in the center of the room. Photos and video captured its growth and will be released online in the very near future in The Memory section.

Visit www.stillinertia.com to purchase this CD.
Visit the Still Inertia Discography for track listings.

3.25.05




As for Matt Cirino, my personal tattooist: He has relocated back to Cleveland, Ohio, and currently works at his own shop Tried & True in Elyria, Ohio. To contact him personally for appointments and information, please email him at mattsaweee@yahoo.com

12.22.04

Thank you for visiting! I am a starving, er- freelance web/graphic designer, programmer, artist, musician, and filmmaker all rolled into one person (with 4 websites to help spread the madness). In 2004, this site has gone through a most extensive and complete overhaul since the year 2000, and the front redesigned in 2010. I also create my own music under my record label named CRC-Music (www.crc-music.com), I present my musical indentity through www.stillinertia.com, and all my accomplishments as well as abilities available for freelance and outsourcing needs can be explored through Kraley Productions (www.kraleyproductions.com).


---
This section I update most often out of all the site... just to let everyone (anyone who cares to) know about what is currently going on in my life.. no matter how far away you all may be geographically. The Story section contains the story of my life in the form of info and recommendations. Feel free to have a look around, view my portfolio, bookmark my reference section and if you have any questions or comments, please send them to jason@jasonkraley.com.

Yes, I am on MySpace.
www.myspace.com/jasonkraley

Yes, I am on YouTube.
www.youtube.com/jasonkraley

Yes, I am now on Facebook.
www.facebook.com/jasonkraley


---
Hellos =
Stevo, Keith, Ariana, Mike Williams, Gooding and his crew, Lane (my non-pink mohawked chickadee), Mr. Jason Popejoy, Nicole, John "I Am Electro" Rowland, Sara "Loverlips" Langhenry, Toshio, Pepper McGowan, Shwag & Lisa, Veronica Bound, Aaron W., Bill & Dan, Mike Gaines, Matt Cirino, Ren & Dell, Abner & John, "Skink" Dan (in the cheese state), Toshio, CJ, Chrissy B., Jason W, Shannon, Lil' G, Christine Siarka, Shahin Afnan, Vincent O, Alx, Natalie, Bonepumpkin (Matt Jay), Rob Harmon (Bound In Ink), Mike Taylor, Coral, Disastro, Drubskin, Gavin & Jim, Ginger, Anne Marie, Holly, Lori L, Lori A, John Nanovsky & Peggy, Drew, Bear and Jeff, Sandy, Juleen, MC Cornflake and Marcus Absent (aka Christian), Crusher (I miss your chiropractic skills), everyone kind soul at The Bike Stop and in The Liberty Bears of Philadelphia, Zach, Courtney and Jeremy, Phil & Stephen M., Jeff Junker (thank you for Bender), Skinhead John, Pedro - The Old Wiseone, Jason D, Salaha (are you alive?), Sara J.M. (still out there?), Eddie Beverage, Mary & Toni, Mark & Darren (and that London pal Paul, too!), Stu, Nate, Sean & Brian (Boston), Mark & Kerri of the Hudson Falcons, Johnny Shea & Mark Blanx, Anja, Mattymoo, Jason D, Everyone at Muggs Bar, Tammy R., JoHn (Yep yep) Reno (still alive buddy?), Melanie & Terry R., Andre, (Where in the world is) Jeremy my ex-"acclink"-co-worker, Amanda North, Amanda Bell, Jason Mould, January & Jason (from the Bloody Irish Boys), Jason Coffman, Mike Trombley, Michael Casey, Jen D./Kate/Everyone at 1812 Productions, John Loesch, Gruvy Steve Fox (R.I.P.), John Gill, Gilligod, Evil Steve-o & Kev Kev, Kevin Glaccum, Mike Dees, Pete Prior, The Fabulous Lee Etzold and Doug, Luca & Becca, Marc & Jay, Nate, My NY pals (Bill, Hypofixx, Joe "The Director", Patrick, Roger, & Tammy R.), Psydde Delicious & his boutique, "R0gu3", Johnny Flash, Jen Engel (alive?), Jern, Lisa H. and T'Jork, Bob Nekic, Nadine, Punkrock Pete, Amneh T, Eric "The Pigfucker", JT and Ty, Evan B. (where for art thou?), Robby and Sal, Robert Drake, the parental units (Mum and Dad, Phil and Laura as well), Joe Minadeo, Jude (Jugoe), Brad from Low Technicians, Jack Dangers and his crew, Greg Boil (from The Boils), The Unstoppable Guy from Guns On The Run (we miss you Dick!), the blokes from Hard Skin (had a blast meeting you and hearing you each night), and everyone else not mentioned! You know who you are (or perhaps why you weren't)...