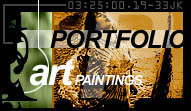 ABSOLUT OUTrageous Masterpiece:
Jason Kraley
Oil, Spraypaint, Acrylic, Ink on Resin 4' x 2' - 2013
Property of ABSOLUT (US).




In March 2013, ABSOLUT Vodka boldly turned its iconic bottle into a blank canvas to inspire creativity and support LGBT Equality. I was gratefully 1 of 50 United States artists in 2013 whom were invited to design an ABSOLUT OUTRAGEOUS Masterpiece 4-foot tall bottle using the classic "ABSOLUT Greyhound" cocktail as inspiration. Nationwide voting took place on Absolut's Facebook page between May 17 - June 30, 2013.

The results? Ironicly, I placed #11 nationally with 424 votes, and, as winner of Philadelphia's competing local artists, I also placed Philadelphia as #11 out of 22 participating cities. Thank you all for your support and votes!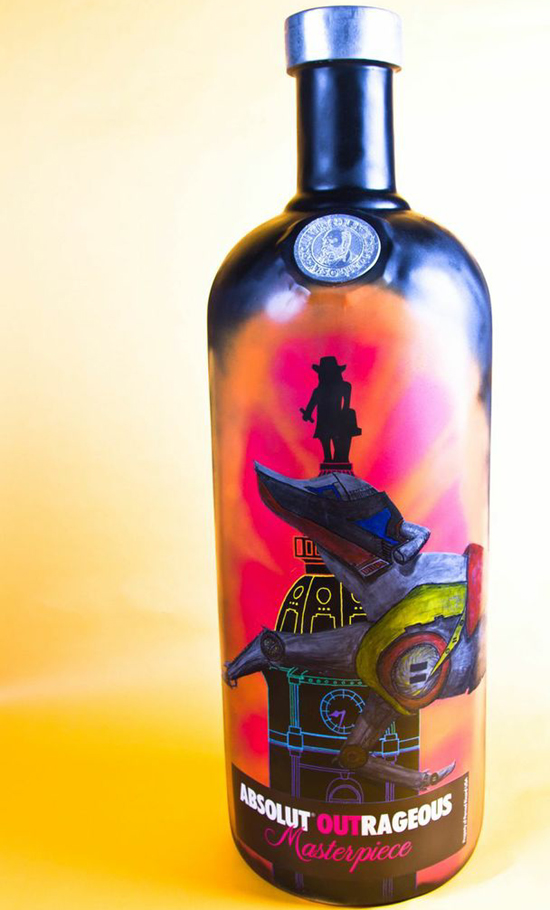 WHERE IS THE BOTTLE CURRENTLY? My bottle was currently on display at Tabu Lounge & Sports Bar in Philadelphia. It was donated to Tabu Lounge by Jason Kraley.

WHAT WAS MY INSPIRATION? Well, primarily, I wanted to represent Philadelphia's spirit of Liberty and Equality (William Penn's monument on Philadelphia's City Hall), incorporating the grapefruit component of the "ABSOLUT Greyhound" cocktail (the suggestive red grapefruit sky), and, in keeping with the idea that Equality and Liberty (in my opinion) is futureproof, I created a robotic racing greyhound - the likes of which are featured in ABSOLUT's Official ABSOLUT GREYHOUND television commercial and music video featuring new music by Swedish House Mafia.

Have a look for yourself: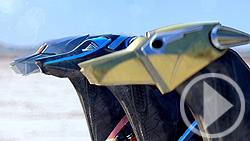 WHAT IS ON THE BACK OF THE BOTTLE? The back of the bottle is a quote by Frances Wright which says: "Equality is the soul of liberty." (You can see the actual quote further down toward the bottom of this page.) I highly encourage you to learn more about this forward thinking woman from the early 19th century by clicking here.

HOW DID I CREATE THIS FROM START TO FINISH? Well... it took a long time (over 160 hours of work), but the bottle arrived as a scuffed up 4-foot tall (to scale) Absolut-shaped bottle made from white cast resin, with its signature "medallion" and "cap" painted a metallic silver (the only two things all participant artists were forbidden to change or enhance). So I present to you the steps I took from start to finish below:


| | |
| --- | --- |
| I started by removing the medallion (to protect its original metallic paint), masked off the top "cap", sanded the bottle for "grip" and spraypainted the entire botle black (total 5 cans, semi-gloss). | I took my time carefully choosing the right building to represent Philadelphia, and decided to mask off a section and freehand draw Philadelphia's city hall, which iconicly has a sculpture of William Penn on top of the building - a figure whom originally founded this city based on equality. |
| Knowing I wanted to spray a background to a silouhette of the building, I used a pen-knife to carve out just its basic outline(s). | Afterwards, I proceeded to carefully peel off all excess masking tape while preserving pressure on all edges to avoid paint leakage underneath. |
| I sat for a good day trying to think of an appropriate "sky-like" background. Considering the only ingredients in the Absolut Greyhound is Absolut and red grapefruit, I decided to spraypaint the "sky" background to suggest a sliced red grapefruit. | After careful applications of 3 spraypaint colors and gradiently shaping the colors to merge with the black, I let it dry for a day, and peeled away the city hall masking tape underneath. |
| During that time, I had been studying the concept of the Absolut Greyhound music video commercial, and decided to merge the idea of a greyhound with the video's future version of robotic racing greyhounds, and created my own for reference. I've drawn my own tattoos, but drawing on such a curved surface was definitely a challenge which I left open for freehand detailing later. | I then masked off the area I felt the robotic greyhound would best be placed, and, once again, hand drew and cut the general outline shape of the dog. I painted the exposed shape with my own shade of acrylic grey paint. |
| When dry, I peeled away all masking tape to reveal the dog's shape and placement on the bottle. | At this point, I'll be honest. I did not enjoy working with acrylic paint, so I proceeded to paint shading and some black reference lines first. |
| After several days, I painted layer after layer of acrylic color "washes" and tinting effects to bring the dog out as realistic as possible. Additionally, I used black spraypaint to blend the dog's body as it wrapped around to the back of the bottle. | After finishing the blue "eye" piece and creating an "equality" (equal sign) symbol into the robot greyhound's main servo-joints, I spent the last 2 days using ultra-fine paint pens to outline the details of Philadelphia's city hall, progressively descending through the rainbow colors. |
| After some last minute detailings, I reattached the "medallion" (unharmed) and placed the ABSOLUT OUTrageous Masterpiece sticker on the front lower third of the bottle (per contest requirements). I also removed all masking protection of the bottle's silver "cap". | I had a very difficult time with an uncooperative white paint pen, but used my graphic design skills and wrote out the chosen quote, letter by letter, line by line with just my eye for centering. I finished the piece by applying the final sticker to the lower third of the bottle (per contest requirements). |

The end...
so please feel free to stop up to Tabu in Philadelphia to see the bottle for yourself!

And again, I appreciate your interest, your votes, and I thank everyone, including ABSOLUT Vodka (US), SPI Marketing and my fellow selected ABSOLUT OUTrageous artists. I especially thank my friends for your support and belief in this 160+ hour creation!

PLEASE: ENJOY WITH ABSOLUT RESPONSIBILITY®








©2019 Jason Kraley
All rights reserved.