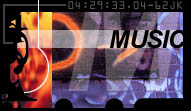 Music is the most important, beautiful, unobstructed form of communication on this particular planet. Ever since I was a young lad, I knew music was an important and integral part of me. In 1993, I decided to express myself through music under the musical identity of Still Inertia. This site used to be congested full of music information amongst other megabytes of information, but I have decided to create an entirely new site for Still Inertia: to exist online as an entity of its own. As the only evolving artist off the CRC Music label, the time was due for a new look of expansion. And since no one likes getting shoved into new, undiscovered countries without their knowledge, consider this a prologue; a preface; a breather before linking to The Music of Jason Kraley.

To discover the aural contents of Jason Kraley, please visit:


©2000-2021 Jason Kraley
All rights reserved.